I have worked with mostly cultural institutions. Happily, over the years the client list evolved to many other types of clients who wanted items that were of "
museum store quality
". These included religious institutions, hotels and many different corporate clients. Having received several inquires of what other items of Jewish interest I have available, I have made this a special page.
I am pleased to give a discount to Sisterhoods and similar organizations on orders above $100.00
There are many items on this page.
Please scroll down
to see them all as they are in no particular order.
Unique Stainless Steel Etching
Of cultural interest ,and making an interesting gift or for ones own home, this is a remarkable etching on Stainless Steel sheet metal, sized at 11 x11 inches which has been float mounted in a wood frame measuring 16 x 15.25 inches. Made at Wendron Forge, Cornwall, England, in the 1970's, it depicts a Rabbi blowing the Shofar. The work has the name D.K. Thomas in the etching, probably the illustrator. In original condition. Shadow on the right is from light source, not on the actual work. I have 5 of these available.
A gift for the Rabbi's office perhaps?
Only $72.00 and with Free Shipping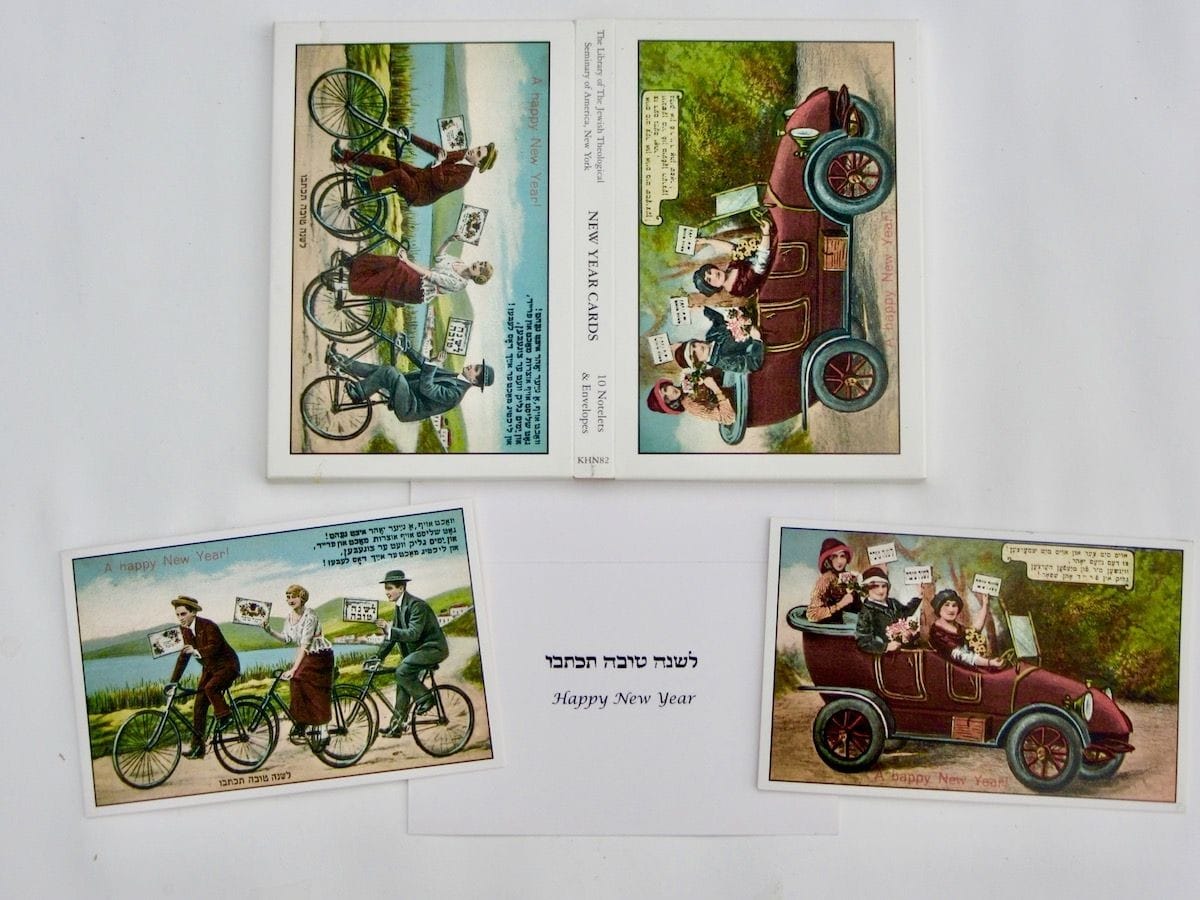 Originally Post Cards, made by the Williamsburg Post Card Co. in the early 1900's, these vintage cards were selected by the JTS from their collection as New Year Cards. Both cards had a Hebrew Greeting which has been translated on the back of each new card. Inside the folded card is the wish for a Happy New Year in both Hebrew and English.
The glossy "wallet" style packet contain five cards of each image shown.
Priced at $9.95 per set of 10 cards and envelopes.
FREE SHIPPING when you purchase 2 sets
Mazel Tov and Todah Note Cards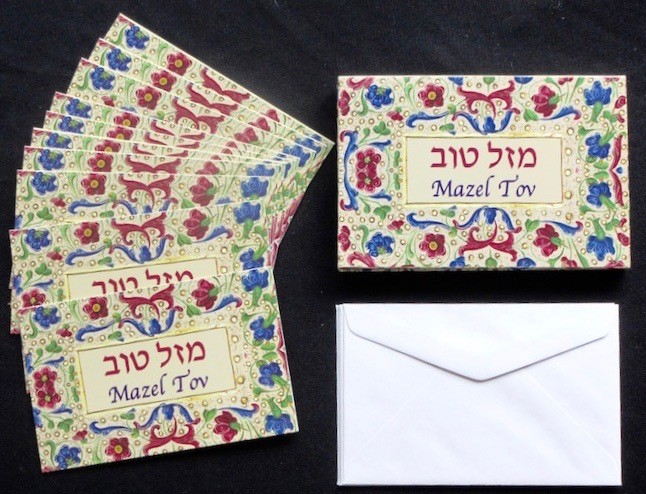 Adapted from an image in the Rothschild Mahzor, which was produced in Florence, Italy in 1490. The folded cards are blank inside ready for you to write your own congratulations for any reason. In an elegant gloss "wallet" style package are ten (10) cards and white envelopes.
Priced at $9.95
Free shipping with any 2 packets Order below
The set of note cards below were adapted from an illistration found in the Megillat Esther (Scroll of Esther) which was written and illustrated in Italy during the 1700's. The cards are blank inside for your message (Limited Quantity)
Priced at $9.95 per set of 10 cards and envelopes.
Choose the card set you would like to purchase (1,2,3,or 4) by clicking below
We all know what a Guest Book is. But who uses them, when and why?
Most people first think of Bar and Bat Mitzvahs and Yes, they are so much nicer than the boards many use at their party. Sometimes not even taken home, let alone kept to remember the event. This book may be circulated during the event for your guests to sign and offer their wishes. Yet this book has been cleverly designed so it is appropriate for all special events from Brit to Wedding to Anniversaries and even Retirement Parties. Apart from the title page there is a page for the invitation or a photograph, followed by space for approximately 300 Guests and their wishes for the guest of honor.
This Guest Book makes a great early gift to your hosts.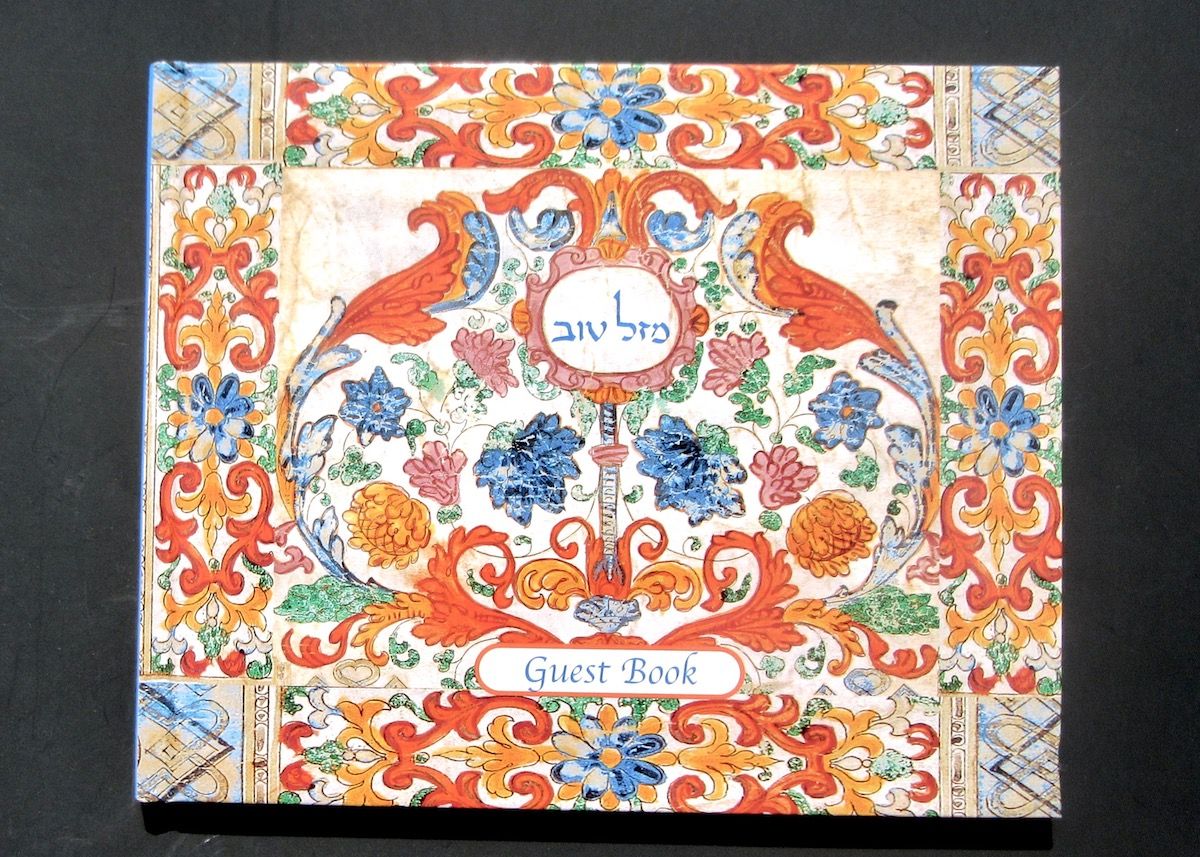 This book has won acclaim from many as it can be used for any Simcha from Brit to Chupah and beyond. A wonderful and more sophisticated approach to remembering the party.
A handsome, bright, cheerful book has a hard cover design adapted from an Italian, Megillat Esther (1700's)
A truly lovely keepsake. 56 pages. Ribbon Page Marker
Size 8.25"x6.75" (16.25" wide, when open).
ONLY $18.00 .
For the Bat Mitvah girl to write her thoughts.
A great gift for your Pre Bat Mitvah young lady.
90 lined pages ready for the start of the Great American novel or her academic writings. The cover image is of Rachel, a French Jewish actress in the mid 1800's. This book was published in cooperation with the Friends of the Library of The Jewish Theological Seminary.
Shrink wrapped.
For other journals and blank books please visit the Journal page
.
Size is 7 x 8.5 inches
Only $9.95
Get these when you fiirst hear of the simcha coming. Order the Personal Journal.and Guest Book and get Free Shipping
$27.50
This is an inexpensive, long lasting gift and greeting card. It was pointed out to me that it's size makes it ideal for sending a cheque for those who still use paper cheques. This is a card that may be sent with a greeting for birthdays or other events but what is special is that the book mark slides out of card leaving the card still intact with image in place. A lovely and thoughtful gift. Both the card and book mark gives information on the image. The Book Mark Card measures 8.5"x 3.75" with the book mark being 7.75" in length. They come with a white envelope and are individually clear wrapped.
Selling 3 Book Mark Cards for only $12.00 with FREE SHIPPING
Illuminated Manuscript Writing Paper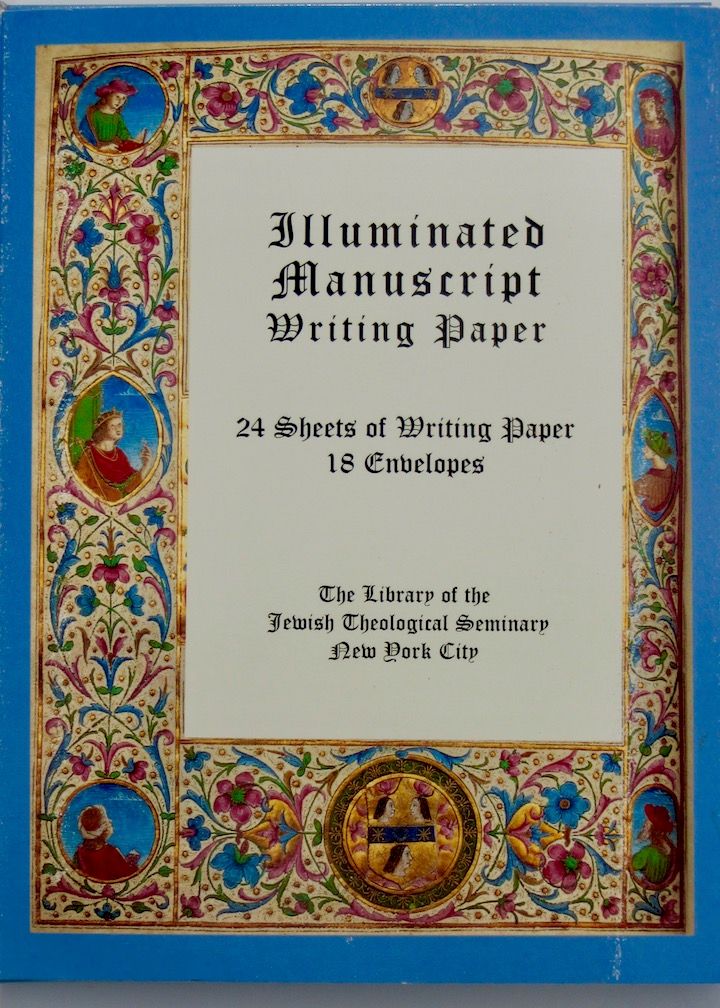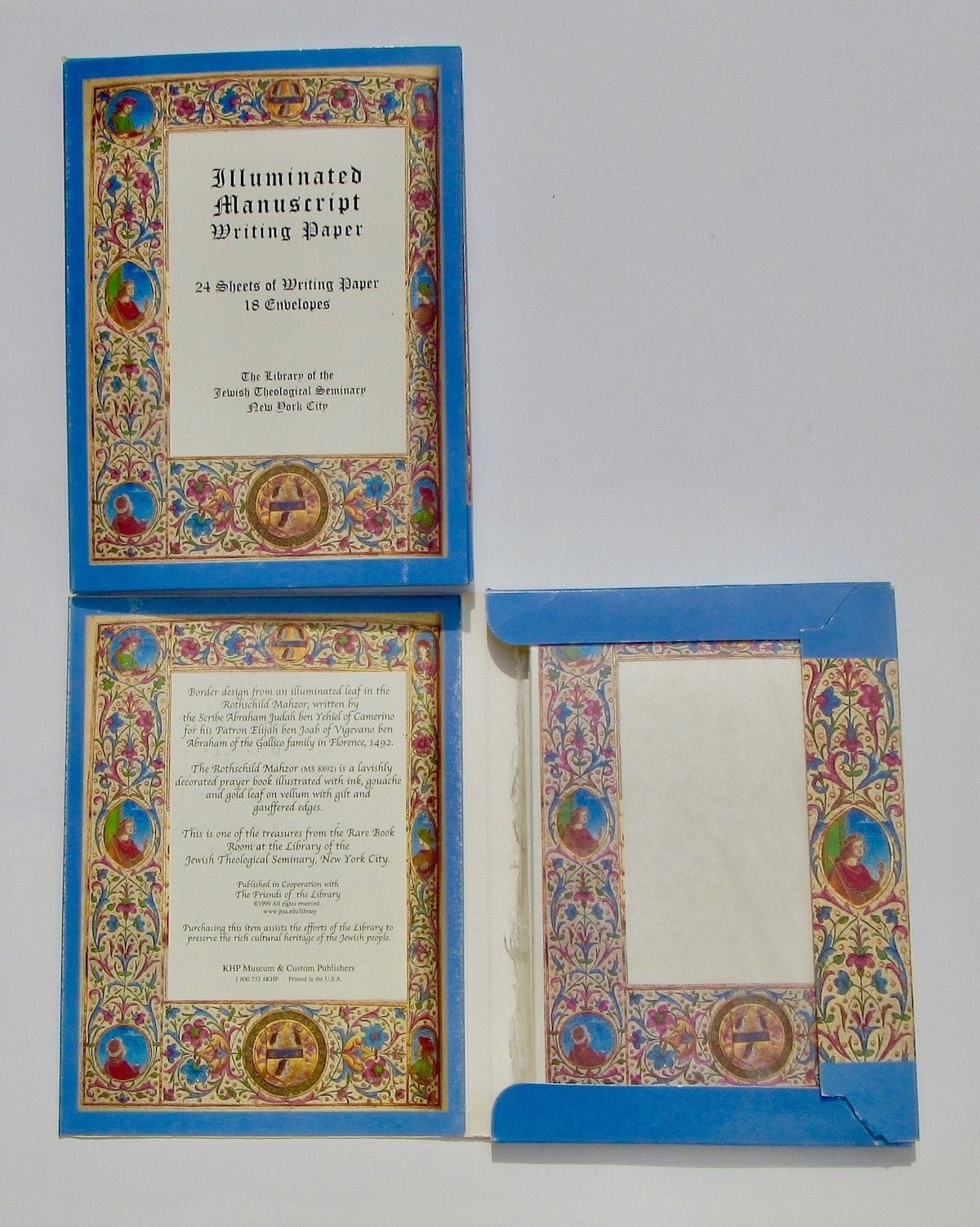 This stationery is adapted from an illuminated leaf of a Mahzor, a Jewish Prayer book. It was written by a scribe in Florence, Italy in 1492. The paper used has a parchment feel and color as does the envelopes. The highly decorated folder contains 24 sheets of illuminated writing paper and 18 envelopes. Each sheet is 7.75" x 5.5" with a front writing area of approximately 5" x 3.5".
The is a wonderful gift for those who appreciate the beauty of medieval manuscripts and the Jewish history associated with this paper.
Selling at $12 Very Limited Quantity
This fruit, in Hebrew, Etrog, is part of the Lulav ritual at Sukkot. here is a matted print ready for framing. Maybe you are invited to friends for the New Year or at Sukkot. What a nice gift to give the host.
The artist
Giovanni Geri
who worked in the early 1800's drew this exceptional rendition of what is know as the Etrog fruit. The original of this print is at London's Kew Gardens Library. Occasionally, slight markings, thought to be a stain or dirt may be visible on a reproduction. These are neither but due to "foxing" on the original. The print I am offering is a faithful reproduction of the original work. However, paper stock and size may have been adjusted for modern day decorative use. This print is 5.5 x 8.5 inches in a matte measuring 9 x 12 inches. The matte is white with bevelled edge surrounding the image ready for your framing, Matted Print
$18.95 each
Chabad - Lubavitch, Crown Heights Brooklyn, N.Y.
These Note Cards show 770 and the Rebbe's Home in summer and winter. The photographs, taken by the talented Daniella Friend of Crown Heights, serve as a reminder of the Rebbe and his dynamic presence. The 8 cards in the wallet style package have a gloss photo style appearance with the inside left blank for your greeting or message. 8 envelopes are included. Very limited quantity.
$9.95 each packet
Seder Berakhot - Book of Blessings
These Note Cards are illustratrated with the delicate flowers and ornamental cartouches that are found in a Book of Blessings produced in Vienna in 1724. At this time in Europe there was a resurgent interest in the elaborate manuscripts produced several hundred years earlier. The set consists of 5 cards of each design and 10 envelopes. They are blank inside.
$9.95 per set
Buy 2 sets of Note Cards, get Free Shipping